Description
Sheet metal cut-to-length line or sheet metal cut to length machinery is mainly used for processing cold-rolled carbon steel coil, stainless steel coil, non-ferrous metal coil, and so on. This sheet metal slitting machine can be configured with six-high roller leveler to cut roll plates, such as metal aluminum plate. It can be used with ordinary mechanical appliances adopting digital inverter technology or AC servo technology. Sheet metal cut-to-length line mainly includes coil car, decoiler, pallet cited device, leveling host, oriented corrective device, fixed-length agency, coating device, shear, conveying bench, pneumatic discharge rack, hydraulic system, electrical control system, etc. The sheet metal slitting machine features PLC control. The main hydraulic, pneumatic or electrical control device and length system adopt international famous brands.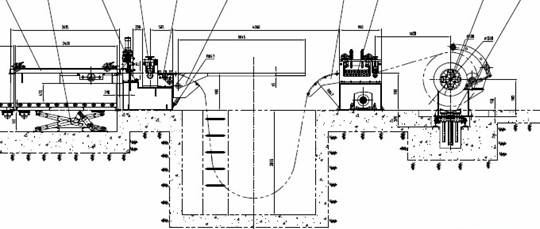 Structure Chart
Parameters of Sheet Metal Cut-To-Length Line (Sheet Metal Slitting Machine)
Model
Sheet Thickness
Roll
Width
Roll
Weight
Speed
Motor
mm
mm
t
m/min
kw
T44K- 2×600
0.3~2
150~600
6
10~50
60
T44K-2 ×1000
0.3~2
300~1000
10
10~50
80
T44K-2 ×1300
0.3~2
400~1300
12
10~50
90
T44K-2 ×1600
0.3~2
400~1600
15
10~50
100
T44K-3 ×1300
0.4~3
400~1300
15
10~45
100
T44K-3 ×1600
0.4~3
400~1600
15
10~45
120
HB Machinery is a professional manufacturer and supplier of sheet metal cut-to-length lines in China. In addition to this sheet metal slitting machine, we also provide rolling machine, leveling machine, shearing machine, press brake, profile bending machine, and so on. Due to our products' high quality, professional service and competitive price, our products are well received by customers all over the world.